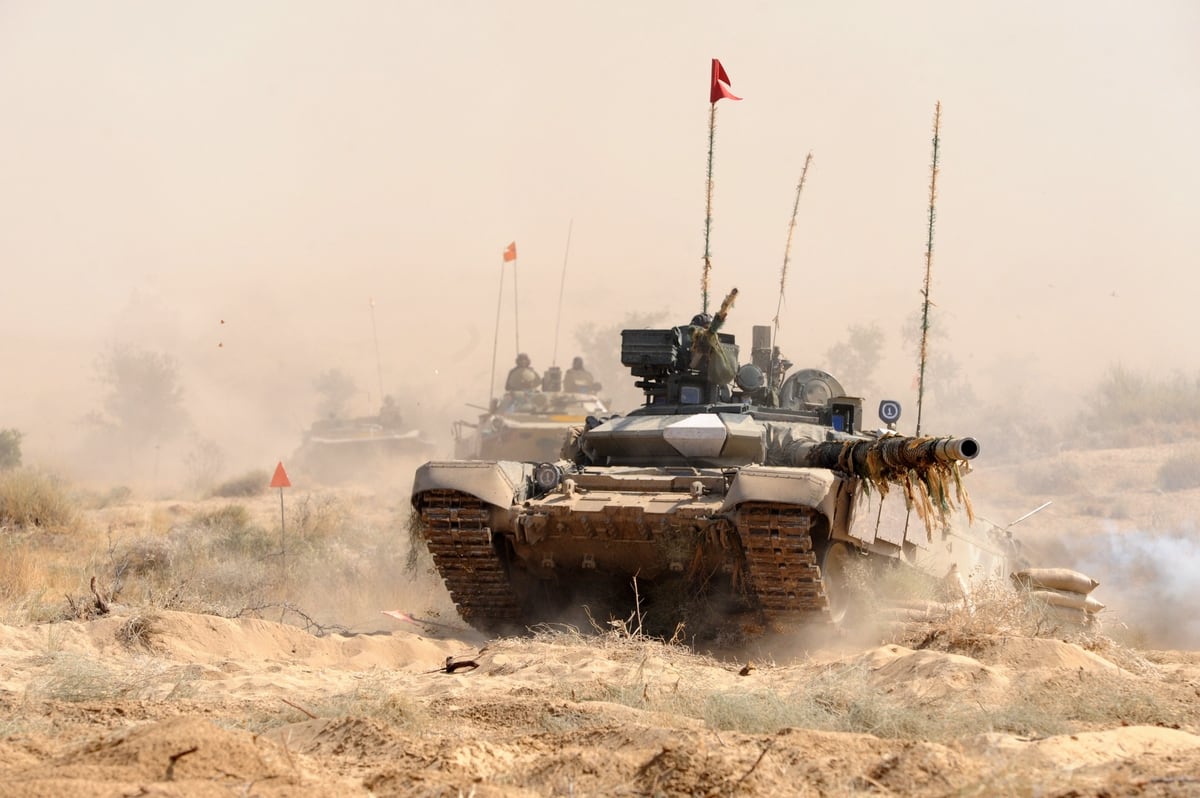 Size and brass buckle traditions are what the Indian military is known for internationally — third-largest army, fourth-largest air force, seventh-largest navy — and not for its quality, operational dexterity, or innovative use of technology.
Worse, it is growingly tainted by 'big' corruption — with uniformed officers in the defence ministry's procurement loops partaking, along with their civilian counterparts, of the usual goodies on offer — 'commissions' channelled into secret offshore accounts, or bribery in kind such as foreign trips, shopping sprees in Paris, London, Stockholm, and 'scholarships' and 'green card'/resident and work visas for progeny, etc. for facilitating deals for foreign armaments and hardware.
Very occasionally, due to sheer bad luck senior officers get caught with their hands in the till, as Air Chief Marshal SP Tyagi was. The former air force chief was indicted by the CBI for taking a bribe from Italy's AgustaWestland Company in a 2010 deal worth Rs 3,600 crore for 12 of its AW101 helicopters to outfit the Indian government's VVIP fleet.
More advanced militaries periodically transform themselves to conform to evolving technology and best management principles. So, post-World War II vintage forces emphasising mobility and firepower acquired proficiency in network-centric warfare and are now sharpening their fighting capabilities in the cyber warfare realm. The Indian armed services, however, have been slow and often tardy.
The problem, in a nutshell, is this: After 20 years of discussion, the armed services are yet to agree on a Chief of Defence Staff (CDS) system of centralised command and control — indispensable for the conduct of modern war. In the realm of digital communications and data fusion where owing to a multitude of land-, air- and space-based sensors, the unfolding battlefield is clearer in real time to a CDS sitting in Delhi than it will be to the frontline unit commander, and will permit him to take decisions to fortify the defensive posture here, switch the axis of attack there, insert special forces in a third place.
Just in Asia, China's People's Liberation Army (PLA) fully transformed itself thus in less than a decade. The Japanese military accomplished it inside of two years, inclusive of a radical operational reorientation away from the Russian-occupied Kurile Islands and the Kamchatka Peninsula southwest-wards to the Senkaku Islands and the East Sea, and the setting up of seven theatre commands, to confront China. Not surprisingly, even when it comes to cyber warfare, these two militaries are top-rated.
Unfortunately, the Indian military resembles the turgid Indian bureaucracy. Set in their old ways, the armed services flub the basic test: instead of the main security challenge —  China — they key on Pakistan, which is more nuisance than threat. So the country pays through its nose to sustain an entirely inappropriate force structure featuring three armoured strike corps boasting thousands of useless tanks that are only good for the Rajasthan desert, because the Punjab plains on the Pakistan side are crisscrossed by an impassable grid of ditch-cum-bunds.
On the other hand, the army lacks offensive corps for mountain warfare capable of debouching on to the Tibetan Plateau and taking the fight to the PLA. Without three such offensive mountain corps, the PLA will always have the initiative — it can choose the time, place, and scale of engagement, leaving the defensively-arrayed Indian land forces to always scramble to respond. As happened in the 2017 summer at Doklam.
The Indian Air Force, likewise, is geared principally to take on Pakistan. In theory, aircraft can fly and fight anywhere unless they are so short-legged they cannot optimally be used other than on the western border. In fact, the bulk of the IAF inventory is filled with short to medium range aircraft that will be of limited utility against China. So tactical and myopic is the IAF's thinking, it refused a genuine strategic bomber — the Tu-22 Backfire offered by Russia as far back as 1971. In similar vein, the Indian Navy is fixated on building aircraft carriers, which look obsolete in the face of supersonic and hypersonic missiles.
This highlights the other big problem. There is no mechanism in the Ministry of Defence for inter se prioritisation of defence expenditure programmes. Absent such means, procurement funding is haphazard with funds allocated to acquire this or that weapons system on a purely arbitrary basis, or as per political whim and fancy (such as the decision to buy 36 Rafale combat aircraft from France). The real scandal is this: There is no real dearth of financial resources, but there is a pronounced tendency to buy the wrong armament for the wrong reasons and, mostly, for the wrong front.
—————-
[Published in MoneyControl.com, July 26, 2018,  https://www.moneycontrol.com/news/india/opinion-what-ails-indias-defence-forces-2761471.html
]