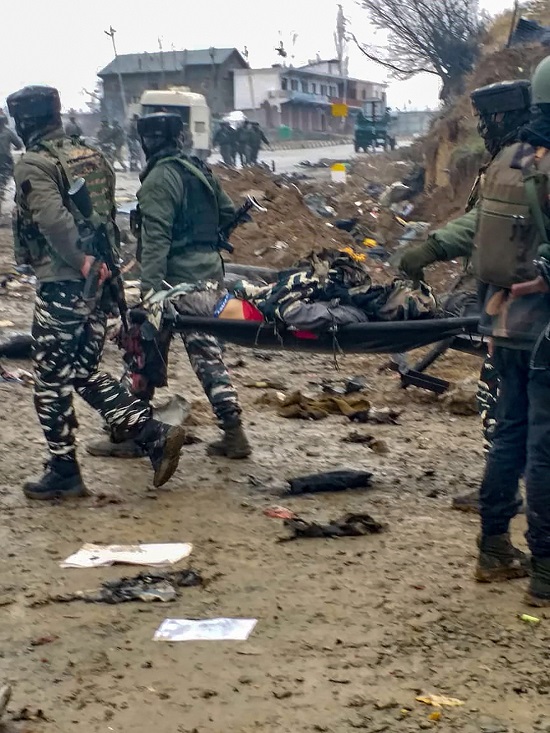 [In the wake of the Pulwama suicide attack]
[Published in BloombergQuint. com on Feb 18, 2019 in my occasional Realpolitik column, at https://www.bloombergquint.com/opinion/india-has-to-solve-the-pakistan-sourced-terrorist-problem-by-itself#gs.Iohjmoso  ]
Owing to the image Prime Minister Narendra Modi has projected of himself and his
government as strong and decisive, many media commentators are of the view that a telling response to the blowing up of 40 Central Reserve Police Force troopers in Pulwama is on the anvil. They appear to be influenced more by his rhetoric than his actions, but shouldn't hold their breath waiting for an Indian counter.
Nothing very much is likely to transpire by way of meting out condign punishment to
Pakistan despite the near universal condemnation of this terrorist act and of Pakistan's role in facilitating it and the US government signalling its acceptance of Indian retaliation as self-defence. This last matters because successive Indian governments in the new Century have cravenly sought Washington's permission before doing anything remotely adventurous. Recall that after the 2001 attack on Parliament – a far more serious provocation because it was targeted directly at India's sovereignty, the US Embassy handed over to the Atal Bihari Vajpayee regime detailed aerial maps of the Jacobabad air base with portions of it that housed US military assets clearly marked out; the implication being that India was free to hit any other part of that Pakistan Air Force base it wanted to. In the event, India did nothing, even after general mobilization for war and the two armies eyeballing each other for six months before Delhi and Islamabad called it quits. It was a sheer waste of time and resources. To believe that in the present situation, Delhi will act differently, forcefully, is to expect the untoward, which
won't happen.
Delhi's idea of coercive diplomacy is to get other countries to do something about the
Pakistan-sourced terrorist problem that it won't do itself, such as prosecute seriously punitive actions and impose costs. Thus, the Ministry for External Affairs (MEA) is reportedly burning the wires to convince friendly countries to pressure Islamabad to rein in terrorist outfits like the Jaish-e-Mohammad (JeM) and Lashkar-e-Tayyaba. Nursed by the Pakistan Army's Inter-Services Intelligence (ISI) to fight its proxy war in Jammu and Kashmir, JeM, in this instance, uploaded to the net the video of the suicide bomber Ahmed Dar's last testimonial for the Jihadi cause filled with stock Jaish fulminations.
There are two factors that have emboldened Islamabad to stay with its enormously
successful strategy of covert warfare against the Indian state. Because it needs Pakistan to be the frontline state anchor for its policy of military withdrawal from Afghanistan, the United States will not risk alienating it by pushing the UN too hard in declaring the country a "state sponsor of terrorism". China has stood four-square behind Pakistan for decades now, having nuclear missile-armed it and cultivated it as a near perfect foil to India's regional ambitions and as a means of keeping India militarily preoccupied with the subcontinent. With the China-Pakistan Economic Corridor, moreover, Beijing is realizing the expansive contours of its expansive Belt and Road Initiative that affords Chinese trade and military all-year access to the warm water port of Gwadar on the Balochistan coastline, and pleasing Islamabad is one of Beijing's major aims. It thus avers with a straight face that Azhar Masood, the Jaish leader, does not fit the UN standard of terrorist and nor does Pakistan as state sponsor of terrorism. The overlapping of US and Chinese interests means Pakistan is immune to any external pressure that Delhi is able to mobilize and, in any case, can continue prosecuting its covert war in Kashmir using terrorist proxies.
As Delhi has lacked the wit over the years to utilize open trade and commerce with Pakistan to build-up stakeholders in the Pakistani Establishment for an entente cordiale with India, Modi's decision to rescind the Most Favoured Nation status for Pakistan will have little impact because the bilateral trade of some $3 plus billion is small compared to its potential — $30 billion. There's no other ready leverage that Delhi can wield considering the two countries are virtually on par as far as deployable conventional forces and their nuclear arsenals are concerned.
What is left is the dirty option of mounting intelligence operations to physically terminate leaders of anti-India terrorist outfits, such as Hafiz Sayeed and Azhar Masood. Such precision targeting to eliminate the terrorist leadership by covert means will have cascading effects on the morale of the radicalized youth in the Srinagar Valley who are in the forefront of the so-called intifada in Kashmir. This is a doable strategy that Delhi, for unknown reasons, seems loath to implement.
The other is to pay Pakistan back in the same coin: Stoke the ambitions of the mainly Pakhtuni Tehreeq-e-Taliban Pakistan (TTP) and its impulses to fight the Pakistan
army and state. Indeed, TTP's fighting qualities are sufficiently developed and effective to simultaneously fight the Pakistan army in Pakistan and the US-led NATO forces in Afghanistan. It is a wonderful asset for India to support and grow with moral and materiel support, and to develop as a bargaining card when the two sides do sit down across the table to talk and hammer out a mutually acceptable solution for Jammu & Kashmir once the 2019 general elections are out of the way.