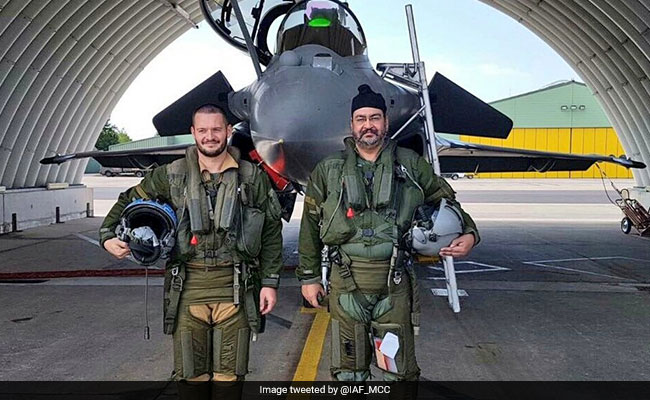 (ACM BS Dhanoa before a Rafale sortie)
An RFI for 110 combat aircraft was today issued by IAF without clarifying whether these are to be single engine or two-engine fighter planes. There re some technical criteria — altitude ceiling, etc. that mean nothing because most modern aircraft will meet them.  It goes on to say  that of these 82-83 aircraft would be single seat and the rest 2-seat trainer aircraft, and that the deal would  be on the basis of a strategic partnership model — with the foreign aircraft supplier collaborating with a capable Indian industry major to set up a manufacturing facility to produce 93-94 of the 110 aircraft in India, including supply chains in-country, and the remaining 16 aircraft bought off the shelf. This will mean that any aircraft producer in the world that has a single engine or 2-engine fighter plane to sell will now hightail it to Delhi.
So, what are the aircraft that will be on offer? To list the aircraft that fits this general bill the list will have F-16 (Lockheed), F-18 (Boeing) from the US, Gripen E (Saab) from Sweden, Typhoon Eurofighter (EADS) from Germany, Rafale (Dassault) from France, and Su-35, MiG-35 and the Su-57 FGFA from Russia. And had China been in the mix, it could have brought in its J-20!
There is method in the way the RFI is crafted. It (1) alienates no country or potential aircraft supplier  — the rescinding of the plan to buy 114 single engine warplanes  for Rs 1.15 lakh crores upended the schemes for the production in India of the F-16 that IAF doesn't want, Lockheed was flogging, and which upset the Trump Administration; this RFI is a sort of corrective, (2) compensates for Modi's buy of 36 Rafales from France for the same amount of money as was set aside for 126 of the MMRCA with transfer of technology, which justly drew flack and plunged the Modi government in hot water,  (3) reassures the IAF which has been squawking nonstop about depleting fighter squadrons in its fleet, & (4) kicks the decision to buy a combat aircraft way down the road and well after the 2019 general elections.
It is obvious the option IAF would prefer is to add 110 more Rafales. Dassault having pocketed $12 billion for 36 of these would be happy to sell the rest for another $20-$30 billion with TOT. And well connected Reliance Defence is already chosen as its strategic partner.
F-16, Eurofighter, and MiG-35 didn't cut it in the MMRCA sweepstakes, their chances are unlikely to be revived this time around. That reduces the competition to the Russian Su-57 and Rafale. (Su-35 doesn't count  because it is about on par with the Su-30MKI upgraded to the "super Sukhoi" configuration, inclusive of 3-D thrust vectoring nozzle, AESA radar, etc.).
But India has already invested some $300 million in the FGFA and as part of the collaboration deal can place its  aircraft designers at the Sukhoi design Bureau to pick design trends and new technologies. This will be useful in terms of the trained Indian designers being tasked to the AMCA programme.
As with TOT provisions in past contracts, Rafale TOT will come with the advanced technologies as "black boxes" — which is not helpful, and force structuring-wise will not fit in with a future coherent air orbat — of the Tejas Mk-2, AMCA, super Su-30 and FGFA.