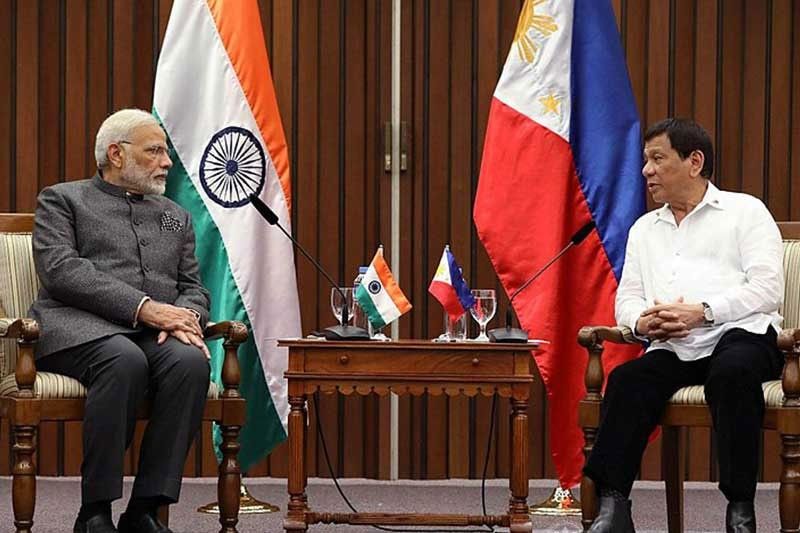 Interacting with a visiting official Filipino team of mid-level diplomats and military officers some 15 years ago, I was repeatedly told that Manila very much desired defence cooperation with India. They hinted at how the IAF could extend its strategic reach and punch by using Clark's Air Force base and the Indian Navy the Subic Bay naval base — the finest deep water port outside of Cam Ranh Bay in Vietnam, as their forward deployment sites in the region. These facilities in the Philippines were vacated by US forces by mutual agreement because Washington saw it as an economy measure and Manila as means to rid their country of the over-weaning American presence.
Plainly, Philippine regimes since before Rodrigo Duterte came on the scene have been thinking of ways to firm up their external security, espying in India, a newly nuclear weaponized country, just the non-intrusive but hefty counterpoise to China Manila valued. Duterte openly sought defence cooperation when Prime Minister Narendra Modi visited Manila for the 15th ASEAN Summit in November 2017 — the first time an Indian head of government had made this trip after Indira Gandhi did the honours 36 years earlier. At the same time, Manila has tried to be on the right side of China, proposing to drill for oil and gas jointly with a Chinese oil major in maritime territory claimed by both China and the Philippines.
This double game notwithstanding, a glance at the map shows just why Indian military and naval units at Clark's and Subic Bay would hamper the Chinese Navy and, together with other Asian forces, such as the Japanese Self-Defence Forces, would if not scuttle, then hinder, Chinese plans for dominating the South China Sea and even the East Sea. Access to these facilities were there for Delhi's asking if only governments here — first Manmohan Singh's and then Modi's, had an ounce of strategic vision, foresight, and drive. Absent these ingredients in the approach and outlook of Indian PMs and, therefore, in Indian foreign policy, MEA settled for an endless series of to-ings and fro-ings by Indian and Filipino diplomats and military delegations without the central issue of Clark's and Subic Bay being ever directly addressed and an accord expeditiously negotiated to enable Indian units to be placed at these locations. Sure, there have been visits by Indian Coast Guard vessels exercising with their Philippine counterparts, and Indian warships on flag-showing missions have regularly dropped anchor in Subic Bay. But these events are trivial and of passing importance in the context of the primary mission of a forward presence of Indian armed forces.
Indicating how busy the two-way traffic has been of official busybodies and military officers, and of Indian warships to Philippine waters, is a press release on Indo-Philippine relations on the website of the Indian Embassy, Manila. The part of it related to defence ties is reproduced in full below (https://www.eoimanila.gov.in/page/bilateral-political-and-cultural-relations/ ) to give the reader a flavour of the underway defence cooperation, which belying the promise and potential, is still pretty damn thin!
"The mainstay of bilateral defence cooperation continue to be capacity building and training, exchange visits of delegations and naval and coast guard ship visits. Secretary, National Defense, Delfin Lorenzana visited India with a five member delegation for the first ever bilateral defence minister level visit from 8-11 March 2018. Apart from bilateral interactions with his counterpart, he also visited defence establishments and defence equipment production centres in India. Philippines participated in the Def-Expo in April 2018 and is also slated to participate in the Def-Expo 2020 in Lucknow from Feb-5-Feb-9, 2020 represented by Mr Raymundo DV Elefante – Undersecretary for Finance and Materiel (USFM), Department of National Defence and Major General Reynaldo Aquino-Vice Commander, Philippine Army. 
"Indian Navy and coast guard ships regularly visit the Philippines and hold consultations with their counterparts. Indian Naval Ships INS Sahyadri and INS Kiltan visited the Philippines from October 23-26, 2019. ICGS Shaunak visited Manila on 1st February 2019 on the occasion of Indian Coast Guard Day. Indian Navy Vessel, INS Rana (D52) visited Manila from 23-26 October 2018.  ICGS Shaurya visited Manila from December 1-5, 2017, INS Satpura and INS Kadmatt visited Manila from 3-6 October 2017, Indian Coast guard Ship ICGS Samarth visited Manila from 7-10 January 2017, INS Sahyadri and INS Sakthi visited Manila on a goodwill visit to Subic Bay from 30 May -2 June 2016;INS Sahyadri visited Manila from 1-4 November 2015; and from 20-23 August 2014; ICGS Samudra Paheredar visited Manila from 19-22 September 2014; a flotilla of four Indian ships from the Eastern Fleet, namely INS Shakti, INS Satupura, INS Ranjit and INS Kirch visited Manila on a goodwill visit from 12-16 June, 2013.
"The participation of officers of the armed forces of both countries in various specialized training courses in each other's countries has intensified, as have visits by National Defence College (NDC) delegations, including the first ever NDC visit from the Philippines to India. An Indian Armed Forces Officer has been regularly attending the prestigious Master of National Security (MNSA) course in the Philippines National Defence College in the last several years. A 27-member delegation from the College of War, Mhow visited in September, 2019. A delegation from the College of Defence Management of India visited Philippines from 23-31 October 2015 and again in October, 2018; a delegation from Army High Command Course of India visited the Philippines from 10-14 November 2014. 
"In recognition of the need to further strengthen defence cooperation, the Joint Defence Cooperation Committee was constituted and had its first meeting in Manila in January 2012 followed by the 2nd meeting in New Delhi on 24 March 2017. The 3rd Meeting India-Philippines Joint defence Cooperation Committee (JDCC) took place at Manila on 31 Jan 20. The meeting was co-chaired by Shri Bharat Khera, Joint Secretary (Planning), Ministry of Defence, India and Mr Teodoro Cirilo T Torralba III, Assistant Secretary for Assessments and International Affairs, Department of National Defence, Philippines. Prior to the JDCC Meeting, Service to Service Talks were held between the representatives of three major Services (Army, Navy and Air Force) of both countries. These talks facilitated a detailed review of bilateral defence engagements over the preceding years and establishment of a roadmap for enhanced engagements over the next three year period. During the JDCC Meeting, both co-chairs reviewed this three year engagement plan and also exchanged views on evolving regional security concerns as well as multilateral engagements. Both co-chairs conveyed their mutual commitment to enhancing the quantum, scale and depth of defence engagements. The meeting was fruitful in comprehensive exchange of views on future trajectory of India-Philippines defence cooperation activities and further consolidated the mutual engagements between both countries in the field of defence and security. The INTELLEX meetings have contributed towards sharing and exchanging information on a range of sensitive issues; the last INTELLEX meeting took place in Manila in January 2015 with the previous one being held in New Delhi in February 2013."
Reading this dense prose would lead any reasonable person to assume that a pact for the use of the two main Philippine bases by the Indian military was long ago in the bag, and what is being worked out are the practical details, such as the legal status of resident Indian military men on short duration stay, etc. and for the prepositioning of stores for Indian frigates and missile destroyers at Subic and IAF fighter squadrons on rotation at Clark's. That, as always in a non-strategic-minded India's case, would be to assume too much! What other conclusion is there to reach?
I mean here's the operative part of the MEA statement in the wake of the "virtual meeting" between the two foreign ministers — S Jaishankar and Teodoro Locsin Jr. on November 8. " The two sides "agreed to further strengthen defence engagement and maritime cooperation…especially in military training and education, capacity building, regular goodwill visits, and procurement of defence equipment."
The "procurement of defence equipment" is the only novel reference here, but what major indigenous Indian hardware would the Philippine forces be interested in? Well, there's the Tejas LCA and, the Arjun MBT. But considering the Indian armed services have only grudgingly inducted these items and there are insufficient production lines to mass produce these items, especially the potential block buster, Tejas, these weapons systems are unlikely to be on offer. Of course, if the Indian government had any strategic-commercial sense –which is missing, it'd have not only pushed private sector companies to sell items they have independently produced, like Bharat Forge its excellent 105mm rifled gun and 155mm long range artillery, but lubricated such transactions by opening credit lines for Manila to use.
That leaves the only Indian armament all Southeast Asian countries fearful of China crave — the warship killer Brahmos supersonic cruise missile. But given how the Indian government, infected by its trademark terminal indecisiveness, has made a hash of the Brahmos deal with Vietnam, which has been in the works for a decade and a half, Manila cannot entertain much hope of securing it any time soon. This despite Vietnam being the one and only country China instinctively fears, which fact, I have argued for over 22 years now, is very good reason why Delhi should speed the Brahmos into Vietnamese hands and prioritize it over equipping the Indian military with it,
It is a matter of the gravest concern that the government so keeps getting in India's way to make strategic good!! But that's because Modi and his circle of advisers, led by the China Study Group, has injected such unwarranted fear and apprehension of China in the capillaries of the ruling dispensation, Delhi is afraid to do anything that could be taken amiss by Beijing. A habitually quaking Indian government is now a constant on the Asian stage, a reality China will happily continue to exploit.