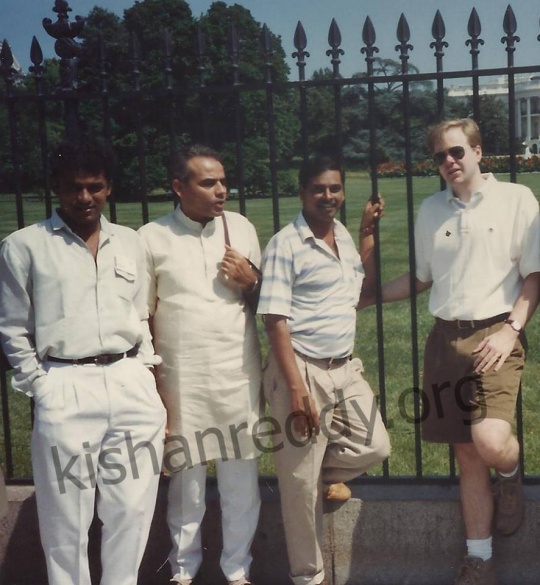 [Around 1999, Modi outside the White House fence on a US State Dept-hosted trip]
A public interview of Narendra Modi at 1800 hrs last evening on 'India' TV channel featured the host, Rajat Sharma, lobbing fluff-ball questions but, on occasion, receiving surprisingly revealing answers from the Prime Minister. For instance, Modi said he lets his "heart rule his head" when meeting with world leaders and relies on "personal chemistry", but uses his head when it comes to negotiating. Amplifying on his method, he added: "hum na aanken utha ke bolte hain, na ankhen juka ke, hum ankhon mein ankh daal ke bolte hain." (I don't raise my eyes, nor lower them, I meet the gaze of the other person.)
This "Modi operandi" about squares with his personality attributes and his approach and way of working. [For a psychological profile of Modi and comparison with the other strongmen currently on the international stage — Vladimir Putin of Russia, Donald Trump of America, Erdogan of Turkey, Xi Jinping of China and Shinzo Abe of Japan, and how his personality traits have impacted Indian politics and policies, see my latest book — 'Staggering Forward: Narendra Modi and India's Global Ambition'.] It leads one to ponder the trade and other deals he will be striking with Trump when they meet Sept 22 in Houston at the 'Howdy, Modi!' reception by the NRIs, and on the sidelines of the UN General Assembly session the PM will address on Sept 26.
However these deals turn out, the US State Department apparently hit the jackpot when, at the turn of the last Century, it invited Narendra Modi, then a senior BJP apparatchik in Gujarat to partake of a trip for a select lot of youngish Indian political leaders who the US government hoped would be useful to US interests in the future. It was a trip Modi alluded to yesterday in the TV event. Bedazzled by the wealth, order and prosperity of the US, Modi, with his small town background, was by his own reckoning instantly besotted. The problem for the country is that he has stayed besotted ever since, when as Prime Minister he's expected to show a bit more restraint in his enthusiasms for America, or any other country, if only to preserve India's leverage with them, and especially Trump who believes in pushing his advantage to the max.
Modi seems now to be circling back to what generated excitement early in his first term at least among NRI communities in different parts of the world and won him international media attention. A vast arena filled with some 50,000 prosperous Indian-origin Americans, gathered in Houston, who when not screaming their support for Modi will raptly hear his speech — the usual string of self-congratulatory spiels laced this time with references to the Balakote strike and Article 370 abrogation, aimed at making the NRIs feel good about themselves, about Modi, about India. Such an event is god-sent for any politician. More so because it will be beamed live back home by Indian TV channels and lapped up by the travelling press corps.
Not one to miss a political trick or a friendly crowd, and opportunity to make capital, US President Trump has happily signed up for the event. The external affairs minister S. Jaishankar predictably deemed Trump's presence at the Houston show as "high honour". That Trump will thus kill several birds with a single stone, is another matter.
Trump will try and ride Modi's coat-tails in terms of translating the regard and fan-following the BJP leader enjoys among NRIs into votes for himself and his Republican Party slate of candidates in next year's presidential elections. Besides, Trump, like Modi, likes big boisterous tamashas with TV cameras whirring– and the Houston affair will fit that bill. But, as has already been indicated, Washington will use Trump's agreeing to be with Modi on the podium to leverage a more advantageous trade deal for the US. That Jaishankar is overseeing the Indian negotiating team's efforts spells danger for the national interest because his record is one of accepting the most onerous US conditions in return for small returns. His most disastrous handiwork is the 2008 nuclear deal he negotiated as Joint Secretary (Americas) in MEA, which by formalizing Delhi's willingness to forego further underground explosive testing capped the technology level of India's nuclear arsenal at the basic fission armaments-level.
Modi, on the other hand, besides furthering his personal diplomacy by hugging and embracing the US President, will try and project his great camaraderie with Trump as at once consolidating the special relationship he says he enjoys with Trump and as reflecting the warmth in Indo-US friendship. Modi has stoked this "friendship" by nearly "zeroing" out oil supplies from Iran at the cost of imperilling the Chabahar port and India's geostrategics pivoting on land connectivity to Russia, Afghanistan and Central Asia. He will seek small-time favours such as asking Trump to upbraid Pakistan for its role in sponsoring and spreading terrorism in Jammu & Kashmir, and on this score to read the riot act to Imran Khan when the latter meets him New York. This will be hugely popular with people here. Despite this Imran will be successful in getting Trump to water down the stiff terms for the IMF loan Pakistan is seeking to tide over economic difficulties. What choice does Washington have after all considering that without Pakistan the US military retreat from Afghanistan is not possible, not if saving face is also on the agenda.
Modi will return home before Imran Khan starts retailing his sob story to the UNGA about "genocide" in Kashmir — has Islamabad consulted the dictionary when using this word? — and how global inattention could lead to a nuclear war that will engulf the globe! It is not clear how all this will occur considering the Indian government has made a purely domestic political move of revoking Articles 370 & 35A, unless Islamabad follows up by facilitating some damn fool terrorist incident that will be easily traceable to ISI and GHQ, Rawalpindi, to which India will respond. Imran has been realistic enough to concede that Pakistan will lose a conventional conflict that may ensue whereupon, he and others have threatened that Islamabad will be left with no choice other than to use nuclear weapons. Except doing so will make Pakistan extinct. Indeed, Imran's cabinet colleague Ali Mohammad Khan, with even less restraint, has upped the rhetoric by giving the emerging situation a hard religious tint. The unification of J&K with India, he claims, is the first step in the Guzhwa-e-Hind (War for India) predicted in the Hadith. Of course, none of this will obtain in the main because the party with everything to lose — the Pakistan Army, wouldn't want to!
But to return to our main theme, as one can readily see, between Modi's eagerness to be satisfied with little by way of quid for India's quo, and Jaishankar's willingness to give away the store in return for next to nothing, the Indo-US trade deal that's to be finalized BEFORE Trump sets foot in Houston, will likely feature an easing of restrictions on American agricultural commodities and, particularly, dairy products. Soon we may find costlier US-sourced milk, butter, cheese and other such goods pushing out Amul items and their local counterparts from our shop shelves. Poor gau-mata! And, Good-Bye to the "white revolution" that the milk cooperatives-based Amul dairy industry of Gujarat began in the country!
Next, Modi's supposedly close friend, Trump, will demand that India hurry up and take the aged aunt of a fighter plane — the venerable all gum and no teeth F-16, off Lockheed's hands while filling its corporate purse. And because the Modi regime is disinclined to trust small Indian companies with advanced tech capabilities, inclusive of patents and intellectual property rights to produce the 5G wherewithal and the Chinese Huawei 5G is ruled out for security reasons, Trump will pressure Delhi to buy American 5G telecom gear and systems produced by Cisco and Qualcom, making India cyber security-wise vulnerable to the US instead.
Modi's trade deal will thus darken the already bleak prospects of the Indian farmer, the Indian dairy industry, and the indigenous technology sector, with the combat aircraft sphere in the van with the foundational Tejas LCA project. Yet, when all is lost, the PM will crow about how his 'Make in India' is such a roaring business success producing what? Ah, yes, a 50-year old fighter aircraft the rest of the world is discarding.