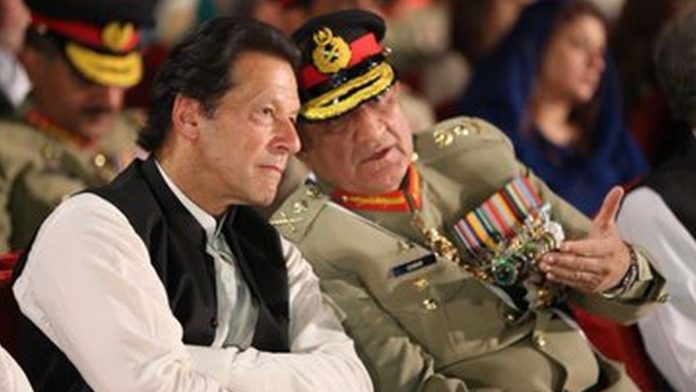 (Prime Minister Imran Khan and Pakistan COAS General Qamar Javed Bajwa)
With the long overdue overturning of Article 370, the status of Jammu & Kashmir is now regularised within the Indian Union. In its wake, the Bharatiya Janata Party government seems inclined to gloat over diplomatically wrongfooting Pakistan and the United States and to consolidate its control over that province. It has entrenched Pakistan's enmity which, in the larger strategic perspective, is not a good thing to happen.
The Imran Khan government will now move closer to China, firm up the Sino-Pakistani military nexus and, notwithstanding the possibility of running afoul of the Financial Action Task Force, persist with terrorism to keep the Kashmir issue alive. India can do something to pre-empt such a denouement, but it will require Prime Minister Narendra Modi to go against his own ideological grain and court political risk in order to achieve the ambitious multi-pronged goal of calming and stabilising a fraught situation, distancing Pakistan from China and drawing it as well as other adjoining countries into a loose South Asian security and economic arrangement, and of otherwise obtaining a pacified neighbourhood—the first necessary step to India attaining great power status.
This may be considered a tall order, but it is eminently realisable. It will mean Modi unilaterally implementing two telling but military-wise safe and significant security-related measures to address Pakistan's perceptions of India as an existential threat and to reshape its attitude. What the Pakistan Army most fears are India's three Strike Corps which, considering the opposition, is way in excess of need and, depending on how the costing is done, consume almost a quarter of the defence budget. The fear of being overwhelmed and compelled to use its tactical nuclear weapons is for General Headquarters, Rawalpindi (GHQR), the worst nightmare because it would result in getting coiled in a war of annihilation it cannot control and whose end—Pakistan's extinction—it cannot avoid.
In contrast to this are the limited wars of manoeuvre that it has fought in the past and is prepared to fight in the future for which contingency India doesn't need more than a single composite armoured-mechanised corps plus a few independent armoured brigades. But here's the nub! The Indian armoured and mechanised forces constitute a bureaucratically powerful combat arm that will brook no restructuring even if the freed manpower and materiel are converted to light tanks and airborne cavalry to equip three desperately needed offensive mountain corps able to take the fight to China on the Tibetan plateau. Modi, however, can impose new force planning predicates on the military as he has done the Chief of Defence Staff system, especially because a meaningful Indian mountain offensive capability will strengthen his hand in dealing with Beijing.
The other decision Modi should take is to withdraw the forward deployed nuclear-tipped Prithvi short-range ballistic missiles from the western border, which other than shortening the nuclear fuse and turning every small crisis into a hair-trigger situation, serve no useful purpose. Should GHQR be rash enough to initiate nuclear action for any reason under any circumstances, the hinterland-based Agni longrange missiles can cover all target sets within Pakistan, so it is an entirely safe move to make.
Consider the consequences of these decisions. They will hollow out Pakistan's view of a spiteful and malevolent India bent on destroying it, devalue China's importance, erode the credibility of its nuclear arsenal and, in time, not only weaken the army's primacy in the Pakistani state and society but also its rationale for cornering a big chunk of national resources. Further, it will lay the foundations for easygoing India-Pakistan relations that Mohammad Ali Jinnah had envisaged wherein, to use foreign minister S. Jaishankar's words vis-a-vis China, "differences don't become disputes". The ripple effects of demilitarising the border, moreover, will be to induce Pakistan to formalise the ceasefire line in Kashmir as an international boundary and smaller neighbouring states to see India as a benign power.
———-
Published as 'Point of View'column in India Today, Aug 23, 2019. at https://www.indiatoday.in/magazine/up-front/story/20190902-time-for-magnanimity-point-of-view-1590562-2019-08-23