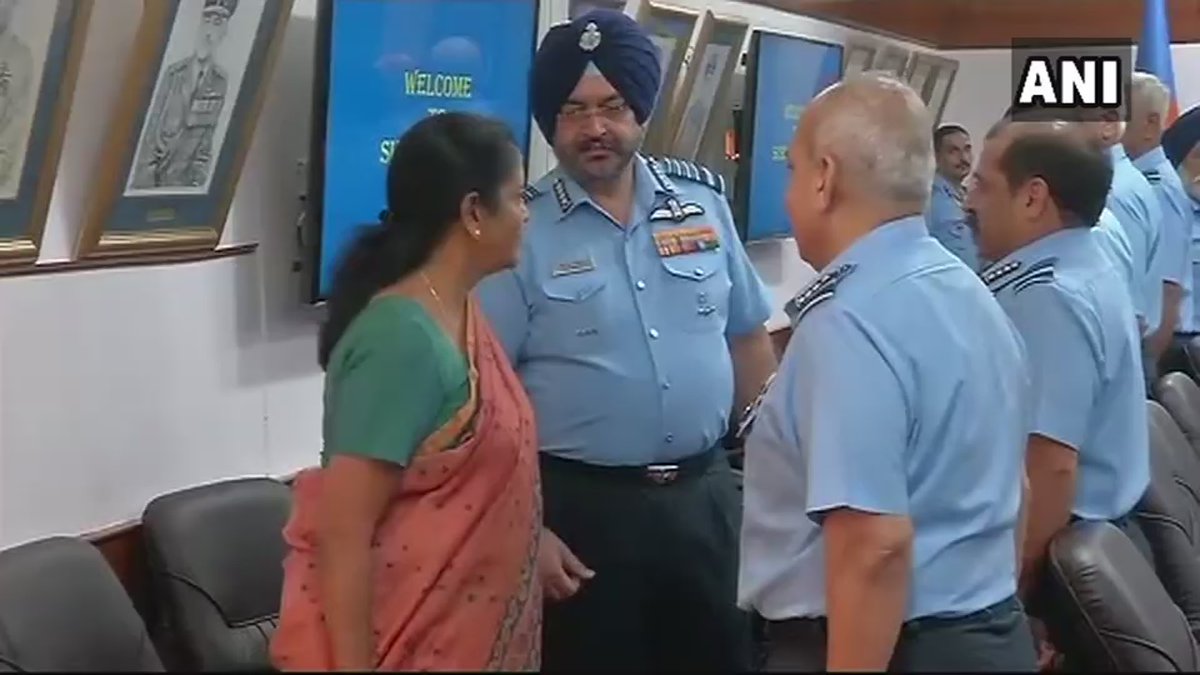 (Sitharaman at Air HQrs with CAS Dhanoa and senior commanders of IAF)
Defence Minister Nirmala Sitharaman is, at her instance, going to fly in a Su-30 MKI tomorrow. Whether it is just a joy-ride, or an indication of the govt going with this plane as an answer to the urgent need to augment fighter squadrons, is not known. But there are signs that the Modi regime is finally reconciling to reality and the extreme scarcity of financial resources, especially in the period leading up to the 2019 general elections, when the state treasury is sought to be properly husbanded and marshaled for domestic social welfare programmes to maximally impress the electorate.  So, acquisition of the Swedish Gripen E, as also consideration of the Sixties' vintage Lockheed F-16 Blk 70, has been pushed out of the picture (for now at least). And the finalization of the Rafale deal is also being put off.
It just so happens, as I have been advocating — look up all the posts over the years on this topic — that the Su-30 is at once the best fighter aircraft anywhere and the most cost-effective solution considering India has a 272-strong fleet already and produces it under license. One assumes the GOI will scrape up the monies to upgrade this entire fleet to the "Super Sukhoi" configuration with a new, more powerful, engine, better, more advanced, avionics, and an AESA radar to switch missions mid-sortie, from A2G to A2A and back. And the upgrade project will be for about a third of the cost of the Mirage 2000 upgrade programme. The bulk of the Sukhois will be upgraded at HAL, Nasik
IAF may consider the Su-30 a make-do solution. Were it not for its institutional tilt favouring Western combat aircraft, Vayu Bhavan would have long ago realized and appreciated the Super Sukhoi as an excellent solution to fill up the air orbat with a really superb aircraft.
This decision was also probably prompted by signals from Moscow that the relations were in difficult straits and hurting and a deal like this was needed to affect a recovery.